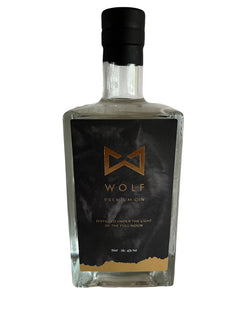 Wolf Premium Spirits
Wolf Premium Gin (70cl 43%)
Welcome to an exquisite journey of unique sensations with Wolf Premium Gin - where tradition meets passion. This masterfully crafted spirit is not just a gin, but an exquisite encounter with nature's opulent treats.

Derived from the evergreen simplicity of juniper, Wolf Premium Gin elevates the gin experience by layering unique spices and flavors. Inspired by the versatility and vigor of the wolf, each sip savoured delivers a bold yet harmonious symphony of flavors.

Follow the delicious path of warm caramel tones, leading into the bold, fiery notes of freshly ground pepper. Succumb to the comforting woody fragrances of crisp cedar that evoke the tranquility of a forest twilight. Unfold a vanilla whispers tantalizingly, soft as a lullaby against the strength of Cedar and peppers. Lastly, discover a subtly sweet finale of ripe cherries that teases the palate as it balances the power of other ingredients.

The result? A luxurious, refreshing gin that retains its invigorating strength while providing an intriguingly delicate and complex taste experience.
Enjoy it neat to reveal every nuance, on the rocks to soften its vibrant edges, mixed into a cocktail to strike a personalized balance or with tonic, to create a refreshing long drink.

Wolf Premium Gin embodies the spirit of the wild woods and the spirit of sophisticated comfort in a beautiful dance of flavors.
Unveil the mystery, embrace the wild!

(Wolf Premium Gin hass been awarded a Bronze Medal at The World Gin Awards 2022. The Award is based on an international judiging panal that includes more than 80 experts from around the world)
Our gin is distilled in Belgium, but loved world wide.